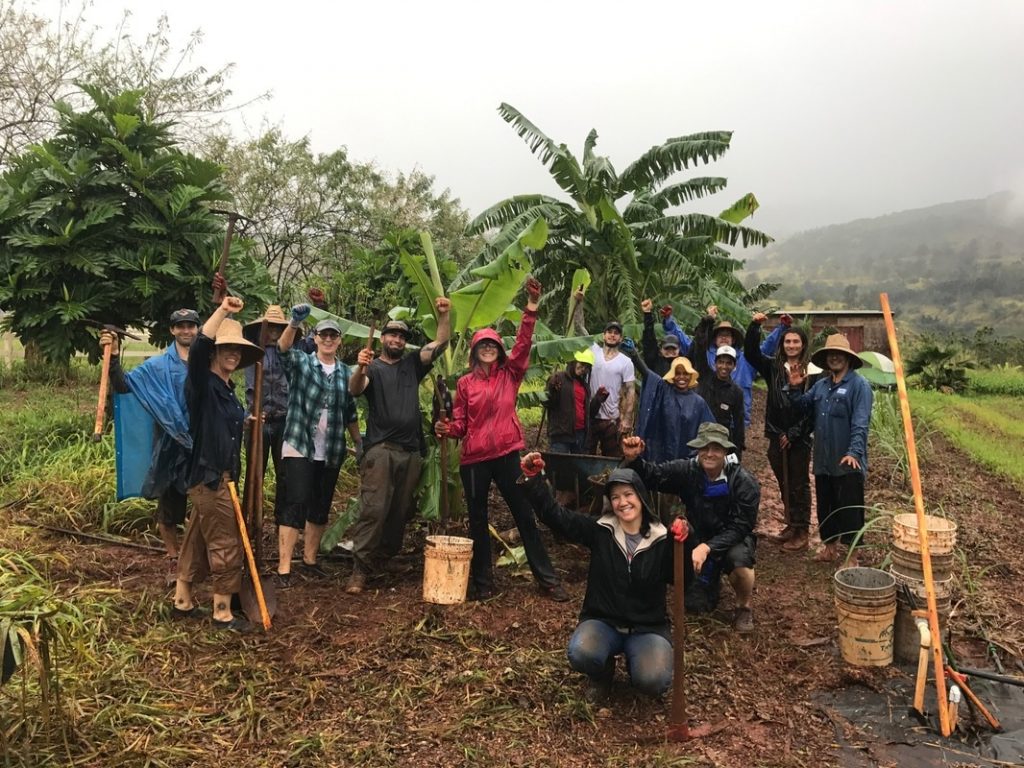 Do you think you might have it within you to do the hard work and learn the various aspects of farming?  To meet the inevitable challenges with creativity and determination?  Commit to Hawaiʻi's premier beginning farmer training program with the goal of becoming a successful commercial farmer? 
If so, then we're ready to help you!  
The programs below are designed to be taken sequentially. Phase availability varies by location.  Preference is given to Hawaiʻi residents.
---

AgCurious
2-hour online session, free and open to the public. Registration required.

Learn about GoFarm Hawaiʻi and our training program, understand the commitment level needed to participate.
Meet the site coach and current participants/alumni

Receive instructions on how to apply to AgXposure.
 AgXposure
5 weeks: 1 weeknight (online) and Saturdays, each week.
Application required – selection is competitive.
Visit a variety of farms to get exposure to commercial farms and work on various farm projects.

Learn about important aspects of farming and get exposure to what life could be like if an agricultural career is pursued.
Network with people in agriculture.

Must complete in order to apply for AgXcel
AgXcel
6 months: 1 weeknight (online) and Saturdays, every week.

Additional time outside of class required to maintain crops; students should expect to put in a minimum of 20 hours per week.

Application required – selection is competitive.
Learn fundamental principles underlying a broad spectrum of on-farm techniques, production topics, and business topics.

Production Topics include: soil nutrients and plant health management, propagation, variety selection, farm equipment, irrigation, pest control (pathogens, insects, nematodes, and weeds), small-scale field management, post-harvest storage and handling, and food safety for commercial production.
Business Topics include: basic farm planning, business management, production planning, cost of production, crop and business planning, and marketing.
Practice on-farm techniques related to small-scale commercial production and apply lessons learned to establish, plant, and maintain a 2,500 sqft plot of diversified vegetables.

Develop business goals and a plan to achieve them.
Sell and market product grown on your plot.  Participants will be required to meet a specified sales goal to successfully complete this phase.
Network and learn about the resources available to further knowledge of farming and business.

Upon completion of the program, participants receive a Certificate of Professional Development if all requirements are met.
Must complete in order to apply to AgIncubator.
---
Additional Programming:
AgIncubator
Up to 3 years. 
Application required – selection is competitive; Also based on space availability.
Start an independent business growing crops on land provided by the program for a minimal monthly fee.

Participants must meet requirements including financial goals, production and business planning, field and production records, and active participation.
Participants will have access to shared equipment and infrastructure (including wash station, cooler, walk-behind tractor) and continued coaching.

Develop business goals and a plan to transition off the site.
AgTechnician
The AgTechnician Program is a certificate-based course offered at the Waiawa Correctional Facility to teach participants the fundamental skills needed to work in the agricultural industry.
Accepted students participate in a 17-week program with over 120 hours of classroom and infield instruction. Completion of reading and homework assignments outside of class time is also required.
Participants are responsible for jointly managing a small plot of land and harvesting/packing produce vegetables. 
Upon successful completion, participants earn a Certificate of Achievement that can be shared with potential employers. 
AgOrchard
Currently piloting only on Oʻahu every summer – with intent to expand to other islands
Learn how to plan, plant, and manage a healthy and productive commercial orchard!
10 week intensive program
Application required – selection is competitive
Weekly Saturday field visits to diverse orchard plantings around Oʻahu
Weekly online weeknight business training on marketing and profitability
Participation fee: $200
Sign up here for email notifications about AgOrchard course or other orchard workshops and events
---
Other Agricultural Opportunities and Services:
GoFarm Hawaiʻi AgBusiness Consulting and Services: The GoFarm Hawaiʻi AgBusiness Team helps new and existing agribusinesses strengthen their business models with technical support in areas of finance, marketing, business planning and resources. Business assistance and consultations are available to discuss goal setting, business strategy, financial analysis, market opportunity and more.
Hawaiʻi Agricultural Education Opportunities: Information about other agricultural education opportunities/internships
Statewide Jobs and Opportunities: Listings of jobs submitted to GoFarm for advertisement (we do not manage or handle response to applications or resumes)
Farmer Resources and Information: A list of articles and resources offering ideas on how farmers can take care of themselves, their farms, and their local communities.