Our site in Maui is located on the UH Maui College (UHMC) campus. Only participants and pre-scheduled visitors are allowed on site. 
Calendar
Cohort 5 is currently in session through May 7, 2021.
To get on the email list to be notified about Cohort 6 or all future sessions, click here.  
Cohort 6 Upcoming Dates:

AgCurious Webinar: May 18 @ 5:30 (REGISTER HERE)
AgXposure: June 2-30 (Wednesdays/Saturdays)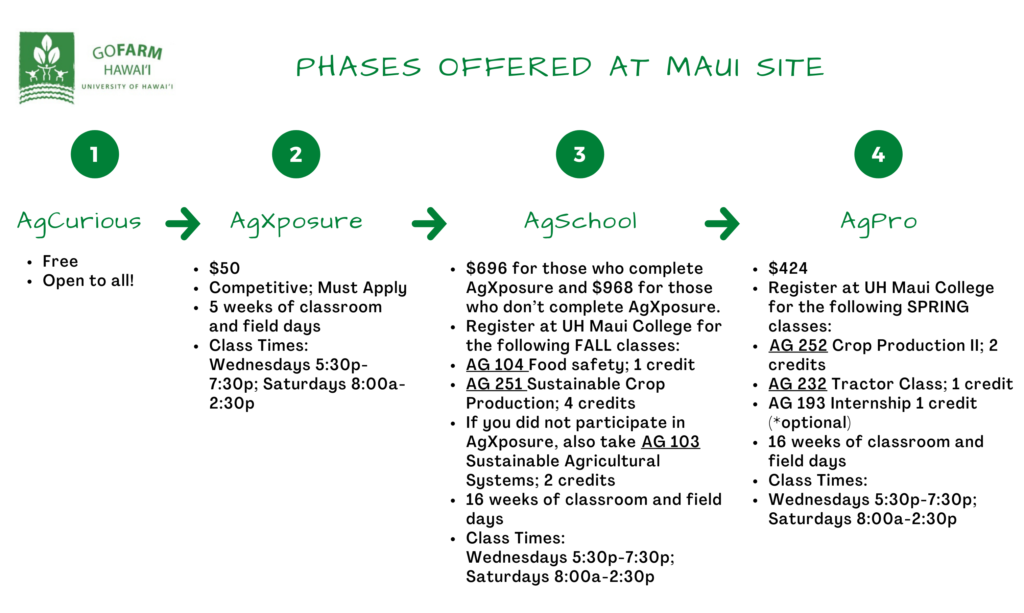 Participants must start with the first phase and progress sequentially. Successful completion is required for eligibility to subsequent phases.

Enrollment at UHMC is required for AgSchool and AgPro and classes are taken for college credit.

The tuition noted is based on resident tuition rates.
Students may apply for veteran benefits or financial aid through UH Maui College.

Find details about each phase 

here. 

GoFarm Hawaii runs one cohort at a time and will start recruiting for the next cohort towards the end of Phase 4.

Acceptance to AgXposure is competitive and based on space availability.

AgBusiness services are accessible throughout to all participants.

To get on the email list to be notified about future sessions, click here.  
For specific questions, please contact:  Maui@gofarmhawaii.org
Schedule and costs are subject to change at any time.