Our site on Hawai'i Island is located a few minutes from Hilo town. Only participants and pre-scheduled visitors are allowed on site.
---
Calendar and Registration Info:
Cohort 6 is currently in session until September 2022 – Accepting Applications for Cohort 7 Soon!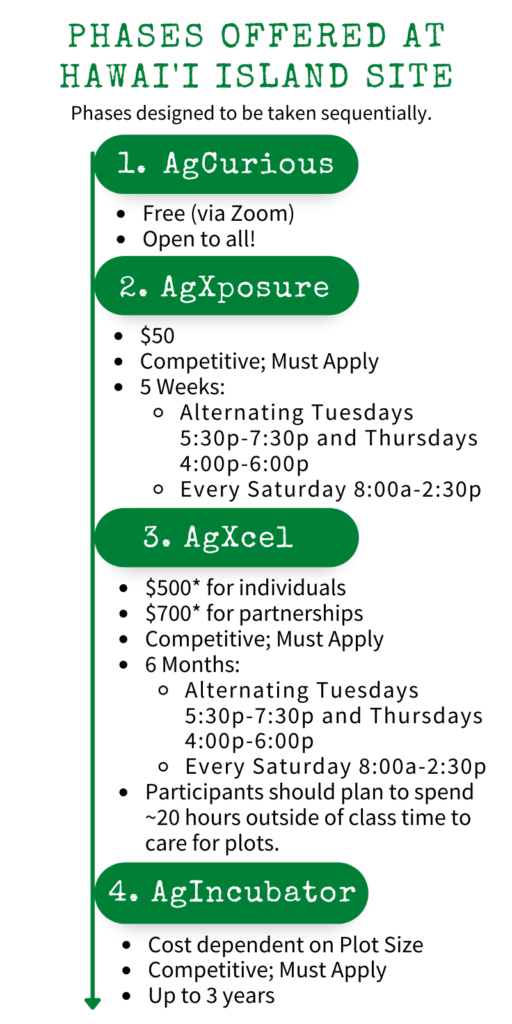 Cohort 6 is currently in session until September 2022.
Next Cohort Dates:
AgCurious Webinar: October 4, 2022 @ 5:30pm – Register Here
AgXposure: October 18 – November 15, 2022
AgXcel: November 29, 2022 – June 3, 2023
To get on an email list and be notified about Cohort 7 or all future sessions, Click Here.
Successful completion is required for eligibility to apply to subsequent phases.
Find more details about each phase Here and frequently asked questions (FAQs) Here
---
Additional Info & Questions:
GoFarm runs only one cohort at a time.

Recruiting for the next cohort will begin towards the end of Phase 3 (AgXcel).

AgBusiness services are accessible throughout to all participants.

*Need-based and Veteran Scholarships available.

At this site, GoFarm Hawaiʻi has a unique collaboration with Hoʻola Farms for veteran participants.

 

Find out more about Hoʻola Farms, Scholarships, and their program 

Here

.
For specific questions, please contact:  hawaii@gofarmhawaii.org
Schedule and costs are subject to change at any time.