---
Calendar and Registration Info:
Now recruiting for Cohort 13!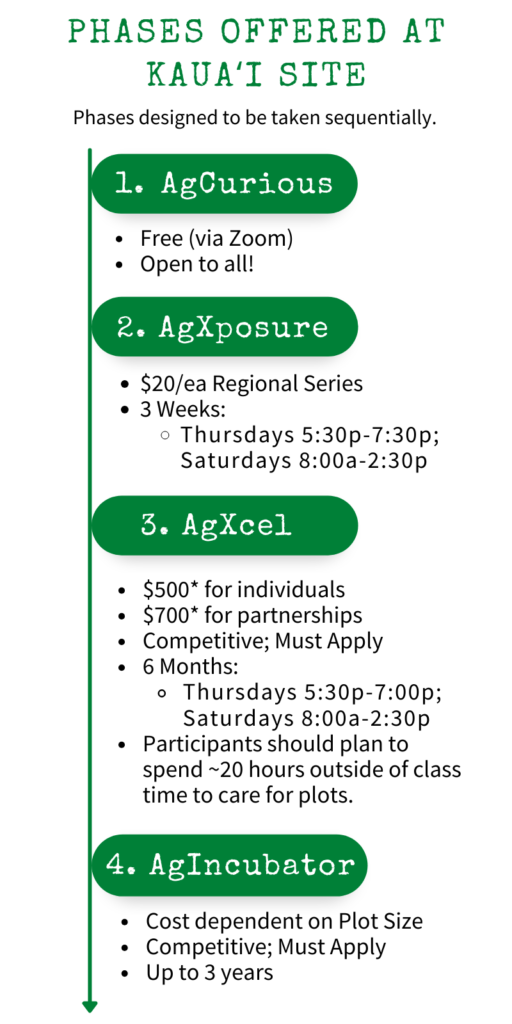 Upcoming Cohort 13 dates:
AgCurious: 9/7/23 (Register here)
AgXposure West: 10/5 – 10/21/23 (Register here)
AgXposure South: 11/2 – 11/18/23 (Register here)
AgXposure North + East: 11/30-12/16 (Register here)

Each AgXposure will have Thursday night Sessions along with the three Saturday field trips

AgXcel: 1/4/2024 – 8/10/23
To get on an email list and be notified about Cohort 13 or all future sessions, Click Here.
Successful completion is required for eligibility to apply to subsequent phases.
Find more details about each phase Here and frequently asked questions (FAQs) Here
---
Additional Info & Questions:
GoFarm runs one cohort at a time.

Recruitment for next cohort begins towards the end of Phase 3 (AgXcel).

AgBusiness Services are available throughout to all participants.
*Need-based and Veteran Scholarships available.

A Youth Scholarship is available for this program location. Applicable applicants must be between 18-21 years old.
For specific questions, please contact: info@gofarmhawaii.org
Schedule and costs are subject to change at any time.