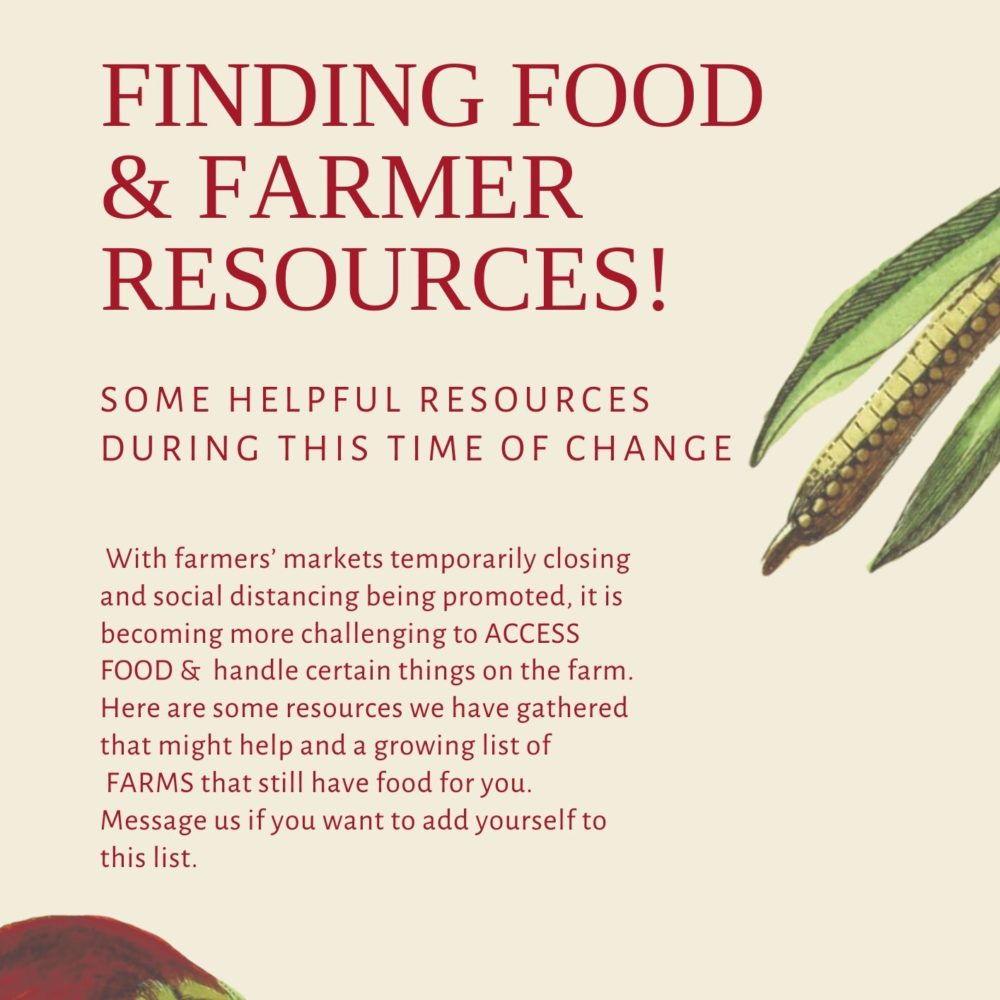 Your local farmers are still here for you! With farmers' markets temporarily closing and social distancing being promoted, it is becoming more challenging to access your local favorites. Check out these farmers who are offering creative options!
CSA Boxes & Fresh Produce with Online Ordering, Farm Pick-up or Delivery.
*Every Farm operates differently. Please make direct contact with farmers to best communicate availability, purchasing, handling and receiving goods. Many Farms also post updates on their Instagram pages so please empower yourselves to stay and get connected that way too.
Farmer's Markets
Some Farmers Markets may still be operating or offering pick up options. You can find Edible Hawaiian Islands list of Statewide Farmer's Markets here: https://ediblehi.com/category/farmers-markets/. Please call or visit their website before going to confirm they are operating at this time and if you want to check if the SNAP/EBT program is accepted.
On Oahu, FarmLovers Markets are found island wide. Visit their website farmloversmarkets.com for more info.
The Hawaiʻi Agricultural Foundation has relaunched Local Inside! Previously established as a Community Supported Agriculture (Local Inside) program, Local Inside now serves as a platform to connect farmers with the community and vice versa.
In response to the COVID-19, Pacific Gateway Center has established partnerships with Hawai'i Health & Harm Reduction Center (H3RC), Hawai'i Foodbank, Aloha Harvest, and Island Restaurant to host 5 Food Drop Events this month! Follow this link for more information: Food Drop-Off Events
Farms
To skip to another island click on one of the links below:
O'AHU:
Food
Aggregators
Contact Info
Products
Farm LinkHawaii
info@farmlinkhawaii.com
(808) 201-5252

Fruits, vegetables, herbs and specialty, meat and dairy; CSA; home delivery
Forage Hawaii (Kakaako)
info@foragehawaii.com
(808) 594-2119
Local troll-caught fish and Maui's wild venison, along with produce from local farms
Local I'a (Honolulu)
info@localiahawaii.com
(808) 492-8331
In season seafood.
Pick up sites at Kaimuki Superette, Kokua Market, HonBlue (downtown), and Farmers market locations.
Oahu Fresh
info@oahufresh.com
(808) 476-7550
CSA Program
Farm Name
Contact Info
Product
Ahiki Acres (Windward)
ahikiacres@gmail.com
(808) 341-8556 text
Vegetables, Ala Carte and CSA bags (feeds 2-4 people)
Augustine Family Farm (Waimanalo)
Variety of vegetables, Lilikoi, Banana
Bear Claw Farm (Windward)
rose@bearclawfarm.com
Vegetables, CSA. Online ordering through Farm Link Hawaii
De La Mesa Farms (Windward)
delamesallc@gmail.com
(805) 602-7415
Micro greens, vegetables. CSA box, mini box and ala carte
Diamond Island Farm (North Shore)
carey.bonn@gmail.com
(541) 633-0910
Vegetables
Fields of Aloha
See instagram page for contact info by location
Fruits and vegetables. Variety box
Hawaii Farm Bureau's Farm-to-Car Program (Neil S. Blaisdell Center)
Order Online
Ho Farms (North Shore)
info@hofarms.com
(808) 293-9757
Vegetables. Still available in stores through Farm Link Hawaii or Oahu Fresh CSA
Homegrown Aloha (Windward)
Angelique@HomegrownAloha.Com
(808) 321-0651
CSA
J. Ludovico Farm (North Shore)
jludovicofarm@gmail.com
(808) 628-0603
Poultry (Chicken)
Kahumana Organic Farms (Leeward)
kahumanafarm@asi-hawaii.org
Fruits, vegetables. Variety of CSA options, sign up here: https://www.kahumana.org/csa
Keiki & Plow (Honolulu)
aloha@keikiandplow.org
Vegetables; pickup at farm
Kupu Place (Honolulu)
(808) 542-4061
Aquaponic lettuce, microgreens, edible flowers Online ordering through Farm Link Hawaii
Lokoea Farms (North Shore)
info@Lokoeafarms.com
(808) 228-8865
Avocados, citrus, tropical fruit. Online ordering through Farm Link Hawaii
Ma Farm (Honolulu)
info@mafarm.org
(808) 551-1896
Organic Produce
Mahinapuna Farm (Honolulu)
Organic Produce
Mari's Gardens (Mililani)
info@marisgardens.com
(808) 625-2800
Vegetables, fruit. Farm pickup.
Maʻo Organic Farms (Leeward)
(808) 696-5569
Organically grown fruits and vegetables. Learn about CSA program here: mao organic farms csa program
MetroGrow Hawaii (Honolulu)
kerryk@metrogrowhawaii.com
(808) 255-3002
Lettuce, microgreens, shoots. Online ordering
Mohala Farms (North Shore)
info@mohalafarms.org
(808) 478-8469
Variety of Produce
Peterson's Upland Farm (Wahiawa)
petersonsuplandfarm@gmail.com
(808) 621-6619
Fresh brown and white eggs and limited supply of vegetables. Drive-through sales where the customer stays in the car. Open Tuesdays through Saturdays from 8:00 to 3:30 or until sold out for the day.
Shaka Moa Eggs (Waianae)
shakamoaeggs@gmail.com
(808) 696-3823
Fresh eggs.
Small Kine Farm (Windward)
smallkinefarm@gmail.com
(808) 262-2724
Mushroom varieties
Thrive Family Farm (North Shore)
Waiahole Farms (Kaneohe)
Instagram at: @waiaholefarms
Bananas, asian vegetables, variety of tropical fruits
Waihuena Farms (North Shore)
info@waihuenafarm.com
Organically grown greens, roots, fruit, herbs, eggs. Farm stand, CSA program and ala carte
KAUA'I:
HAWAI'I ISLAND:
Farm Name
Contact Info
Product
Ahualoa Farms (Hamakua)
aloha@ahualoafarms.com
(808) 775-1821
Macadamia nuts, macadamia nut products, and 100% Hamakua coffee; ships statewide
Ahualoa Grown (Hamakua)
Vegetables. CSA boxes.
Big Island Creamery
govegan@bigislandcreamery.com
(808) 825-8485
Plant-based cheeses, yogurts, spreads, and dips.
Coffee of Kona (Kona)
info@coffeeofkona.com
808-989-4883

Kona coffee, macadamia nuts, local jams and jellies. pickup or delivery.
Ginger Ridge Farms (Mountain View)
(808) 968-7622
Fruits and vegetables. CSA service
Hamakua Harvest
info@hamakuaharvest.org
(808) 896-2151
Hawaiʻi Institute of Pacific Agriculture (Kohala)
farm@hipagriculture.org
(808) 889-6316
CSA program with a variety of fruits and vegetables.
Hawaiʻi Island Goat Dairy (Honokaa)
bigkidllc@gmail.com
(808) 775-9787
Hamakua goat cheeses.
Honomu Goat Dairy (Hamakua Coast)
thegoatfarm@icloud.com or mhenning_100@hotmail.com
(808) 756-0953
Offers a variety of plain and seasoned chevre, and a traditional Greek-style Feta. Goat milk caramel, fudge, and hand-made goat-milk soap. Curbside pick up on phone-in orders, inter-island and mainland shipping. Possible delivery on orders over $100 to Big Island locations.
Hawaiʻi Ulu Co-op
info@eatbreadfruit.com
(808) 238-8869
Ulu, papaya, banana, squash, Okinawan sweet potato, value-added Ulu products
Hoʻōla Honey (Hāwī)
savehealthrive@gmail.com
(808) 386-9886
Raw Kohala honeys, fermented honey garlic, and a variety of other value added products. Free pick up or delivery in Waimea and North Kohala.
ʻIo Farms (Kailua Kona)
iofarmshawaii@gmail.com
(808) 936-4509
Vegetables. CSA boxes.
Keauhou Farmers Market
keauhoumarket@gmail.com
(209) 782-0299 Saturdays
Online CSA with drive-thru pickup
Kīpuʻupuʻu Farms (Kamuela)
kipuupuufarms@gmail.com
(808) 854-5616
Microgreens
Lions Gate Farms (Honaunau)
info@coffeeofkona.com
(808) 989-4883

Kona coffee, macadamia nuts, local jams and jellies. pickup or delivery.
McCann Farms (Kamuela)
mccannfarms.csa@gmail.com
Variety of vegetables. CSA, Kona and Waimea pick up locations.
Mother Nature's Miracle Farm (Hamakua)
mothernaturemiracle@gmail.com
(808) 785-7793
Organic Produce
Napua Restaurant and Kaunamano Farm (Mauna Lani)
(808) 885-5910 or order online, select Napua Farmers Market Menu
Produce + Farm box comes with: 1 lb Wow Farms tomatoes 1 tray of microgreens 1 lb of Seasonal Veggies 1 lb of Ulu Kaunamano Farm bacon Hamakua Hot dog (3) *ATTENTION* Order Dates: Mon for Tues Pick up Wed for Thurs Pick up
O.K. Farms (Hilo)

(808) 934-9200
Locally grown fruit, coffee, macadamia nuts, spices, cacao (chocolate)
Pahale Farms (Papaaloa)
pahalefarmscoffeecompany@gmail.com
(808) 936-7567
Coffee, honey
Puna Chicks Farm (Puna)
punachicsfarm@yahoo.com
Call Emily @ (808) 430-0147 after 4:00 pm on weekdays, or anytime on weekends
Organic, pastured poultry. On-farm pick up, order through their website
MAUI:
Farm Name
Contact Info
Product
C. Lopes Farm (Up Country)
Variety box with beef, eggs, breads, etc. message via Instagram to order (Check Instagram for availability)
Haleakala Supah Shots
(808) 357-1927
Raw vegan drinks (limited delivery) and list of local CSA programs
Kahumoku Farms (West Maui)
Kumu Farms (Waikapu)
kumufarmsoffice@gmail.com
(808) 280-3262
Vegetables, culinary herbs, Sunrise Papaya and value added products
Kupaʻa Farms (Up Country)
janetsimpson943@gmail.com
(808) 344-2817
Fruit and Vegetable CSA box (Email or text Janet for CSA availability)
Lapaʻau Farm (Up Country)
michael@lapaaufarm.org
(562) 331-7748
Variety of crops, focus on oyster mushrooms, root crops, and salad greens. Check website for availability of CSA produce boxes.
Local Harvest (Kahului)
orders@localharvesthawaii.com
(808) 633-5060
Customized CSA from multiple farms.
Maui Grown Organics
CSA Reservations Online
Moku Roots (West Maui)
Mokuroots@gmail.com
(808) 214-5106
Take out vegan menu and boxes of local produce
Okoa Farms (Up Country)
ryan@okoafarms.com
(808) 276-3892
Variety of produce. Farmers Markets or sign up for delivery/pick up on their website
Pono Grown Farm (Up Country)
Diversified production farm and mentoring center raising fruits, vegetables, chickens and bees
Toohey's Butchery & Bistro (North Shore)
tooheysbutchery@gmail.com
(808) 856-0311
Cuts of beef, pork, lamb, chicken, fish
MOLOKAI:
Food Aggregators
Contact Info
Product
Sustainable Molokai
harmonee@sustainablemolokai.org
(808) 560-5410
Locally-grown produce, poi, grass-fed beef, shrimp, and other products made right here on Molokai. Our Molokai-based growers and producers name their price and post their product availability. Customers make their selections through our easy-to-use online sales platform.
To add your farm to this list, please email your information to info@gofarmhawaii.org