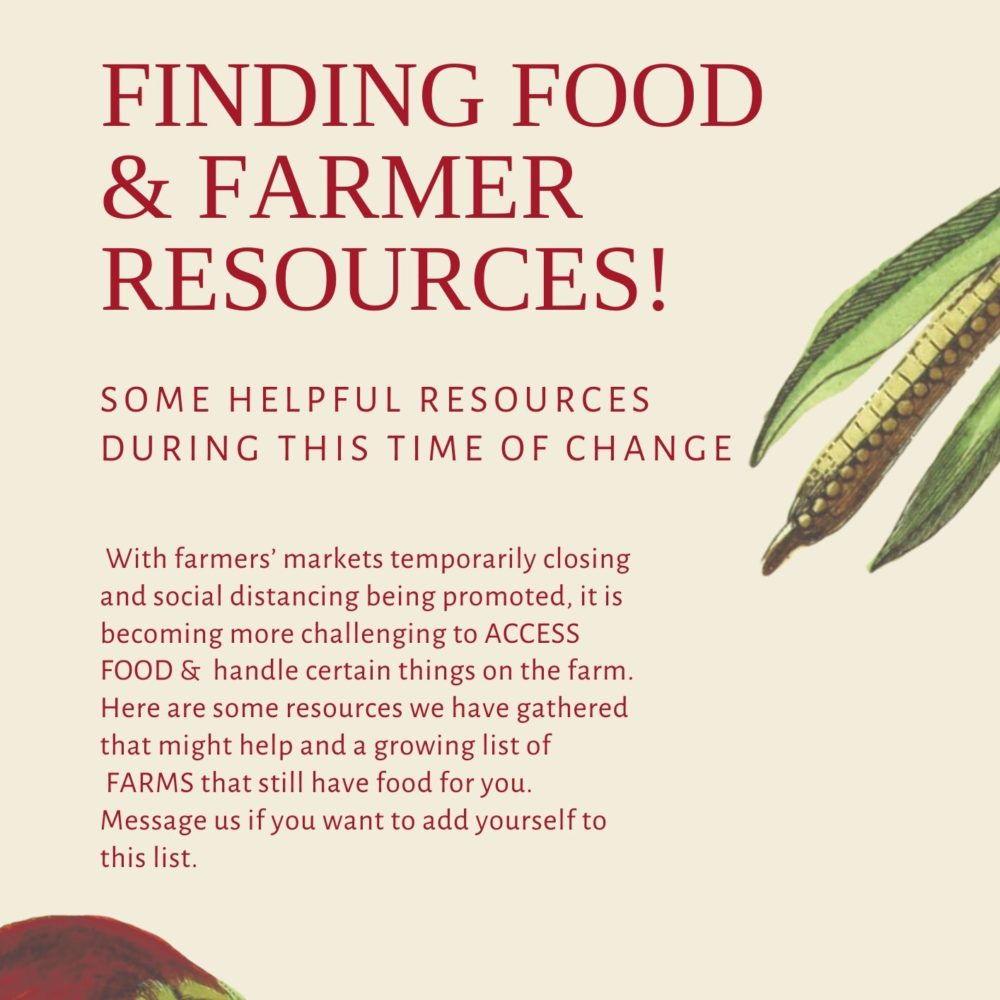 The following reflect some articles and resources offering ideas on how farmers can take care of themselves, their farms, and their local communities.
Operational Resources
GoFarm Hawaii Field Site Protocols (SAMPLE)
Reminders for Farmers from the UHM-CTAHR Farm Food Safety Team Regarding COVID-19
Farmers transitioning to direct sales who need assistance in managing payment options can look to these Mobile Point of Sale/Product Purchasing Platforms
Online Sales Platforms: What You Need to Know
Oregon Tilth presented a webinar about online sales platforms for direct-to-consumer sales. Hear from representatives from four online food sales platforms and see the list of common questions when considering online sales. 
List of Online Sales Platforms and Pricing
Trying to sift through the many different options for online sales? This list assembled by the National Young Farmers Coalition provides links, features and pricing for 14 platforms for farmers.
Selling/Moving Your Product
Hawaii Dept. of Ag Food Producer list
The Maui County Farm Bureau (MCFB) and the County of Maui have partnered in the Farm Product Purchase Program to buy food from local farmers.  Meat, value-added products, flowers and nursery products are not eligible.  For more information and a link to an application: Farm Produce Purchase Program
On March 26, 2020, The Hawaii Farm Bureau launched a drive thru farmers' market, which allows consumers to order their fresh produce and products online and pick up curbside at a scheduled location.  Find more info here: Farm-to-car
Produce donations: If you have extra produce that can be harvested and either dropped off or arrange a pick up for, please contact the below:
Foodland is interested in purchasing locally grown produce and products (such as meats, eggs, and dairy) from farms of all sizes on all islands.  Foodland needs information on what products are available immediately. Regardless of the size of the farm or how much product is available, all farmers are requested to complete this form if interested in selling to Foodland.
Local Farmers' Markets Do Their Part to Flatten the Curve on Coronavirus
Keep food safe at farmers markets
Financial Assistance
The USDA Coronavirus Food Assistance Program will provide direct relief to farmers/ranchers directly impacted by the coronavirus pandemic.  Information can be found here: www.farmers.gov/cfap
The Hawai`i Board of Agriculture approved the Emergency Agricultural Loan program for agribusinesses impacted by the COVID-19 emergency:
http://hdoa.hawaii.gov/blog/main/nr2-04emergency-loan-program-approved/
American Farmland Trust has launched a Farmer Relief Fund awarding qualified farmers with cash grants of up to $1,000.
 USDA Rural Development has taken a number of immediate actions to help rural residents, businesses, and communities affected by the COVID-19 outbreak.
Mālama Kauaʻi is administering a rapid release mini-grant program to Kaua'i farmers serving kupuna.  Apply here 
SBA Economic Injury Disaster Loan (Updated March 20)
USDA Farm Service Agency has made changes to farm loan, disaster, conservation and safety net programs to make it easier for customers to conduct business. This includes relaxing the farm loan-making process, servicing direct loans, and servicing guaranteed loans. Click here for more information.
The Oahu Agriculture and Conservation Association created a new OACA grant and loan page providing up-to-date financial resource information, links to partners, and more.  
Additional Resources
ATTRA Sustainable Agriculture Program has one of the best lists for all things COVID-19 related that farmers and ranchers might find useful.
Small Business Owners Guide to the CARES Act
Hawaii Farm Bureau Covid-19 Update
USDA has a page with information related to the new coronavirus and current status of USDA Service Centers, online options for conducting business, and updates to USDA programs and services in response to COVID-19.
You, COVID19, and your farm business
Young Farmers Covid-19 Response
Building Farm Resilience During COVID-19
Cornell Small Farms Free Online Courses
A suite of more than 20 online courses help farmers improve their technical and business skills. These courses cover a range of topics, from mushroom growing to financial planning, to anything in between that a farmer needs to succeed.
Between now and 12 p.m. EST on March 27, go to www.smallfarmcourses.com and choose up to two courses in which you would like to enroll.
Select a course and proceed to checkout.
On the checkout page, look for the "Add Coupon" link and enter COVID19 in that field.
Checkout for free. Limit your use of this coupon to two courses. 
Get started on your course. While our instructor-led courses are wrapped up for the year, the recorded lectures and other content is there for your self-directed study.
Complete the course(s) before April 30, then you will lose access to the course materials.
Coronavirus: no evidence that food is a source or transmission route
To find a farmer you can visit this page: