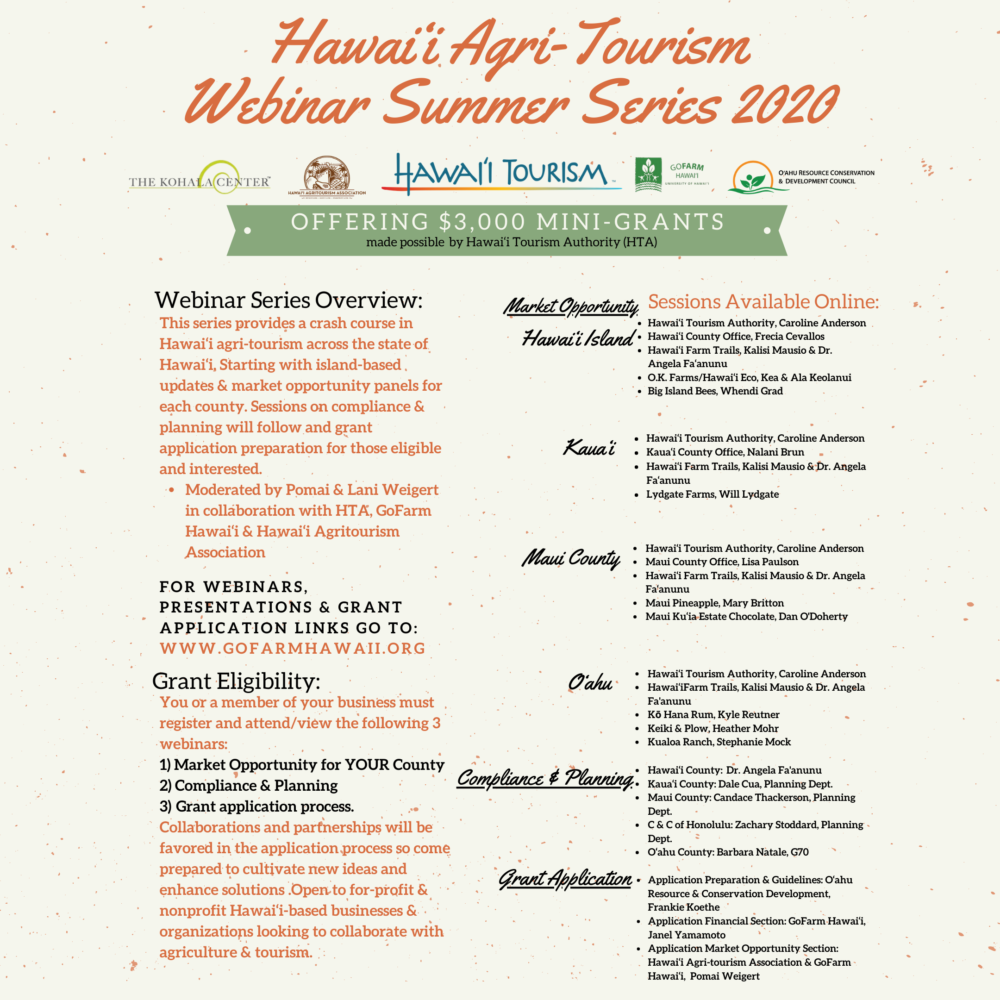 Aloha Everyone,
Thank you for joining us for the
Hawai'i
Agri-Tourism Webinar Summer Series 2020
We had market opportunity webinars for each county and 2 statewide webinars covering compliance/planning and applying for the mini grant.
If you are applying for a $3,000 mini-grant, you must have registered and attended/or viewed the following webinars:
1) Market Opportunity for your County
2) Compliance & Planning 8/4
3) Grant Application Process 8/6
All webinars have been recorded and are available to view by following the links below.
This page also contains the handouts and presentations from the various webinars.
Presentations and Handouts: 
Hawaii Agri-Tourism Support Mini Grants FAQ
Criteria to Participate in HI Farm Trails – Graphic
7/21/2020 Presentation Slides
7/23/2020 Presentation Slides
7/28/2020 Presentation Slides
7/31/2020 Presentation Slides
8/4/2020 Presentation Slides
8/6/2020 Presentation Slides
Video Links: 
7/21/2020 – Hawai'i Island Market Opportunity Panel
7/23/2020 – Kaua'i Market Opportunity Panel
7/28/2020 – Maui Market Opportunity Panel
7/31/2020 – Oahu Market Opportunity Panel
8/4/2020 – Compliance and Planning
8/6/2020 – Grant Application Process
Evaluation

 Links:
7/21/2020 – Hawai'i Island Market Opportunity Panel Evaulation 
7/23/2020 – Kauai Market Opportunity Panel Evaluation
7/28/2020 – Maui Market Opportunity Panel Evaluation
7/31/2020 – Oahu Market Opportunity Panel Evaluation
8/4/2020 – Compliance and Planning Panel Evaluation